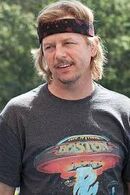 David Wayne Spade
(born July 22, 1964) is an American actor played
Marcus Higgins
in Grown Ups in 2010.
Significant Roles
Edit
Kyle in Police Academy 4: Citizens on Patrol (1987)
Scott in The Facts of Life (1988)
Larry Slotkin in ALF (1990)
Theological Cokehead in Light Sleeper (1992)
Rand McPherson in PCU (1994)
Richard in Tommy Boy (1995)
Steve Dadds in Black Sheep (1996)
Ernie in 8 Heads in a Duffel Bag (1997)
Scott Thorpe in Senseless (1998)
Dylan Ramsey in Lost & Found (1999)
The Voice of Kuzco in The Emperor's New Groove (2000)
Joe in Joe Dirt (2001)
Dickie Roberts in Dickie Roberts: Former Child Star (2003)
The Voice of Scuzz the Horsefly in Racing Stripes (2005)
Shiloh in Grandma's Boy (2006)
Richie in The Benchwarmers (2006)
Raymond Davies Allen in Carpet Bros (2008-2010)
Marcus Higgins in Grown Ups (2010)
Monica in Jack and Jill (2011)
The Voice of Griffin the Invisible Man wearing his Glasses in Hotel Transylvania (2012)
Marcus Higgins in Grown Ups 2 (2013)
Ad blocker interference detected!
Wikia is a free-to-use site that makes money from advertising. We have a modified experience for viewers using ad blockers

Wikia is not accessible if you've made further modifications. Remove the custom ad blocker rule(s) and the page will load as expected.